A BOAT NAMED EMILY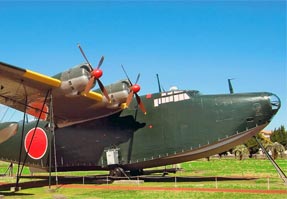 Recognised as the best performing flying boat of WWII, the Kawanishi H8K Large Flying Boat, code name Emily, was designed in 1938 and featured a number of innovations, some forced through unforeseen problems with hull efficiency. The first notable combat operation for the new aircraft was an ambitious one - an attempt to bomb the Pearl Harbor dockyards in order to disrupt repairs caused by the attack in December 1941, doubling as a reconnaissance mission. Bad weather meant that bombing results were very poor with no damage inflicted, however both aircraft returned to base following a round trip of some 8,000 kms (4,971 miles). Several attacks were also made on Far North Queensland in the area of Townsville and Mossman in late 1942. Thereafter the type carried out long range maritime patrol, anti submarine reconnaissance, troop and VIP transport. Following the Japanese surrender one aircraft was earmarked for testing and was eventually mothballed at NAS Norfolk prior to being returned to its homeland in 1979. Here we look at the type's history and focus on the journey of the sole survivor.
THUNDERBOLT!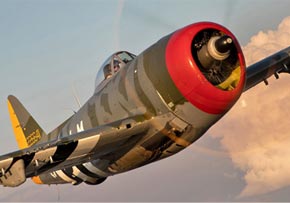 We have been following the potted history of the Thunderbolt restoration scene, putting Republic P-47 fighters back into the skies after being rescued from less than ideal circumstances. But the question has to be asked, "Just why is it that growing the number of restored, airworthy 'Jugs' seems to be suffering from a case of three steps forwards, two steps back"? It is clear that of all the WWII Allied fighter aircraft, the Thunderbolt is the least likely to return in any meaningful numbers. There just aren't enough surviving candidates to be viable restoration subjects and further depleting the numbers are the airworthy examples which have been grounded for museum display. However all is not lost and in this article we throw the spotlight on the handful which are now heading towards airworthiness. Two of these escaped certain destruction in Papua New Guinea, whilst the other served with distinction in Central America.

FRANCE'S FLYING MACHINE GUN - THE SPAD S.VII & S.XIII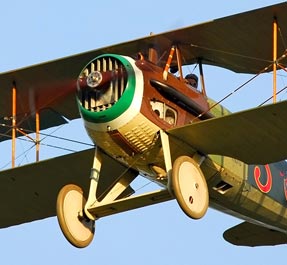 The SPAD fighters embraced the move away from the more nimble early war fighters, relying more heavily upon straight line speed, dive capability, stability and ruggedness. Once pilots understood its advantages and appropriate tactics were worked out, the SPAD proved to be an effective weapon. First seeing action in mid 1916, problems were encountered with engine cooling and excessive vibration, different approaches to a solution causing some major discrepancies between the French and British production of the type. The SPAD S.VII was generally considered a good aircraft, however it was tricky to handle at low speeds and more importantly by the summer of 1916 its armament was weak. Ongoing development saw a more powerful engine fitted and because of the influence of French ace Gunmeyer, heavier armament installed. The resulting SPAD S.XIII was produced in large numbers through to 1919 and was the mount of numerous aces including Baracca and Rickenbacker. In our prelude to a survivor's article, we present an overview of the SPAD fighter's history.
Our Last Mystery Aircraft was a …Burnelli CBY-3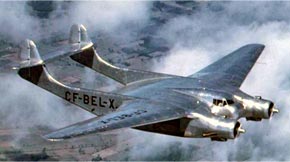 American aeronautics engineer Vincent Burnelli believed that all of an aircraft's basic components should be designed to help it maintain flight and was of the opinion that the fuselage in a conventionally designed aircraft was just a box to carry passengers and cargo, providing no lift. His designs were however shunned and none went into serial production. In this article we take an in-depth look at his most successful, the CBY-3 Loadmaster. It proved its worth in the Canadian wilderness and came close to outfitting an air operation in South America, but a combination of bad luck, as surplus of wartime transports and more modern aircraft under development meant only one would be built. Fortunately the aircraft survived, the restoration of which began at the New England Air Museum in 2012, being completed in late 2020. From the outset the primary focus of the team was preservation of the fuselage and airfoils in order to tell the story of the significance of the lifting body design evolution. The aircraft's history and return to glory is described here.
Airshows – North America round up