Advertise
There is a reason that the majority of advertisers with Classic Wings have been running their adverts in this magazine for years. It is because they recognise that they are reaching their target audience and that is resulting in regular sales for these advertisers.
Whilst Classic Wings reaches a very broad base of enthusiasts of vintage and warbird aeroplanes right around the world, it is the one magazine that the owners, operators and restorers of these aircraft make sure they don't miss out on. If you wish your products to be seen by both the enthusiasts and the participants in this exciting world of heritage aviation, then Classic Wings is definitely the vehicle you are looking for.
Please don't hesitate to get in touch to discuss the various advertising options we have available.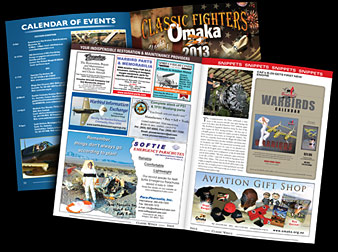 Please download our Media Kits for more information:
(PDF, approx. 3MB each)

Download New Zealand Media Kit

Download Australia Media Kit

Download USA Media Kit