PACIFIC PROWLER - A KIWI KITTY'S TALE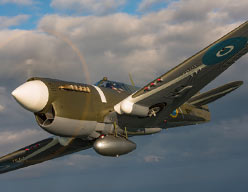 Paul Redlich and the Tri-State Museum team secured Grand Champion – WWII at EAA AirVenture, Oshkosh 2016 for their superb P-40 Kittyhawk. This was the result of some 32,000 man hours and an almost obsessive dedication to represent the fighter in its historic Royal New Zealand Air Force guise - a tribute to its pilots and service. This P-40's service with the RNZAF is described, as is its fortunate survival when one man decided he would one day take one of these derelict warriors home. Conservation would eventually turn into a full blown restoration which would eventually see it return to the air, not once, but twice, following a return to the USA. The journey to get there is described, complemented by superb air to air photography from two of the best in the business.
.

FAIRCHILD F-45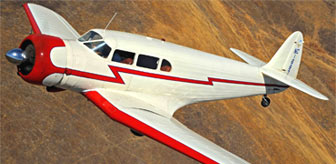 Our Mystery aircraft this time around, the Model 45, touted as the 'Sedan of the Air,' ploughed the skies of the USA during the Golden Age of Aviation. It was designed to be the high speed aerial counterpart of the top end automobile circa the mid 1930s – creature comforts, luxurious interior and ample space. Here we look at the type's development and thereafter focus on the few survivors, one of which is now in the process of a restoration to airworthy condition in NZ.
AIR SEDAN AIRBORNE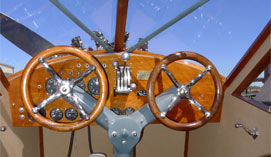 An extremely rare Golden Age aircraft has flown again for the first time in decades after suffering years of neglect. This now pristine aircraft started out life as a Travel Air being built at their Kansas Plant, however when Travel Air was bought out by Curtiss, it became a Curtiss-Wright and was officially designated an ' Air Sedan.' Al Stix Snr takes us on the long and winding road which has seen this rare aircraft returned to factory fresh condition, undoing numerous modifications it suffered when employed as a 'Jump' aircraft.
STALLION 51 CHECK OUT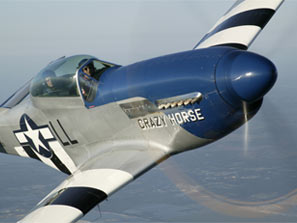 Much has been written by pilots who have flown WWII fighters and of the sheer exhilaration of flying such aeroplanes. This article penned by Dave Currie is written with a different objective in mind following him attending Stallion 51 in Kissimmee, Florida where he undertook their P-51D Mustang Checkout Training Programme. He explains from his own experience the preparation taken for flying a WWII fighter- in this instance focussing on one fighter in particular, the 'Cadillac of the Skies.' He discusses the aircraft types that best prepared him for flying such a fighter and goes on to describe some of the technical aspects of flying the aeroplane, take-offs and landings, areas to exercise caution and dispels some myths along the way.