14/08/2012
The last 2 weeks in Omaka...
Over the last week or two at Omaka we have seen a bunch of rainfall and flooding however that could not stop interesting things going on in and around the Classic Wings hangar.
The 1st August had seen the long awaited actual start of the Yak-9V project next door at JEM Aviation. The syndicate had decided on this start date at our last meeting with a plan to commence with work on the tail surfaces. Some work had already been done on the tailplane and vertical fin but the elevators and rudder were both requiring a fair amount of attention. Happily the start of work on the elevators has seen rapid progress already so it is great to have this new project finally underway and going well. It is going to be a stunning beast when completed, offering full dual control for V-12 fighter training. Yahoo!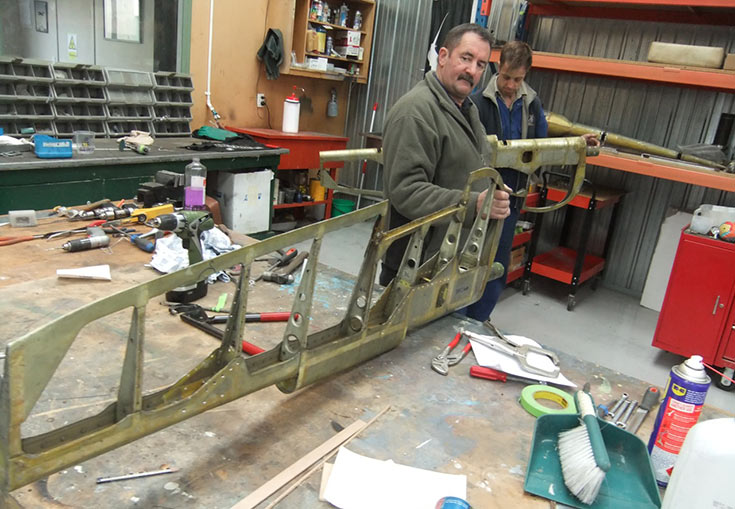 Marty Nicol shows off one partially repaired elevator whilst Jay McIntyre inspects the second.
On Tuesday, Jay McIntyre brought the Chariots of Fire Fighter Collection Fw190 out for its first engine run after the completion of its annual inspection, this process including a range of little tidy up jobs including the finalisation of the markings needed to make this a more accurate representation of the aircraft flown by JG.54's Eric Rudorffer. The aeroplane ran beautifully and looked stunning. At the same time as this was happening, Mark O'Sullivan was practicing an aerobatic display over the field (with smoke) in our syndicate Nanchang whilst Tim Sullivan offered advice from the back seat. Looking very good there guys!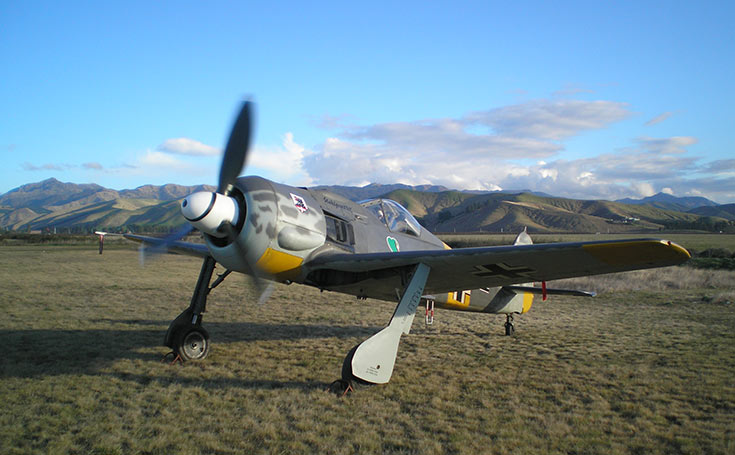 Jay runs up the Fw190 complete with her new embellishments!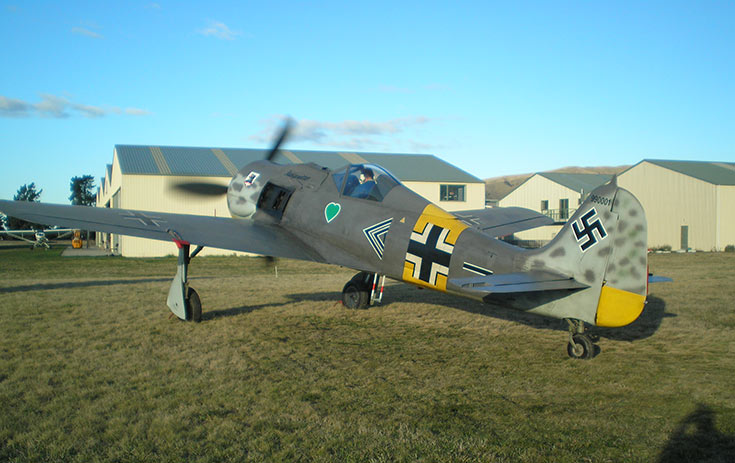 Here we are again. That's the Goverlock's lovely Super Cub ZK-BRO in the background (another JEM Aviation restoration).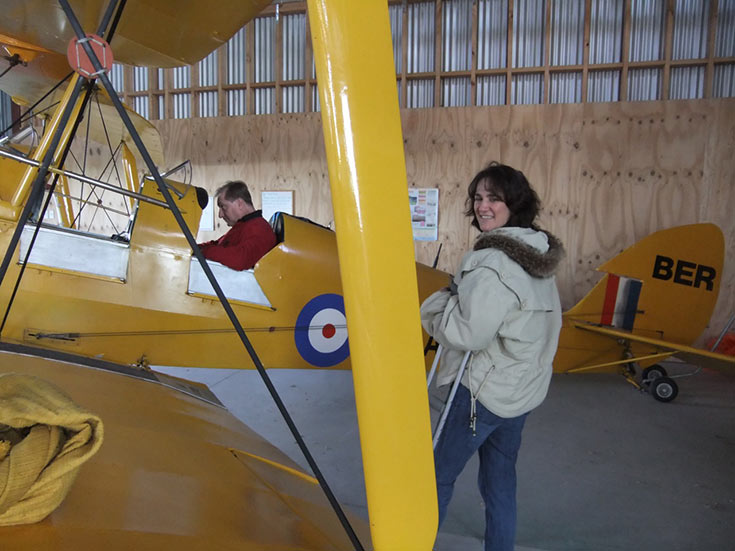 During the soggy Wednesday and Thursday we enjoyed a great visit from old friends Mike and Nancy Lagunowitsch from Singapore who are hoping to settle in Marlborough a few years down the track. They have just purchased a Tiger Moth in project form which will be restored at Omaka by JEM Aviation with Mike carrying out some of the woodwork from Singapore. It is hoped that ZK-AZQ will come back to life some time over the next 3-4 years, and will thence make Omaka her permanent home. It's always great to see the start of yet another new project! Whilst in the neighbourhood, Mike could not resist trying on the syndicate Tiger ZK-BER for size! As you can see, it was a good fit!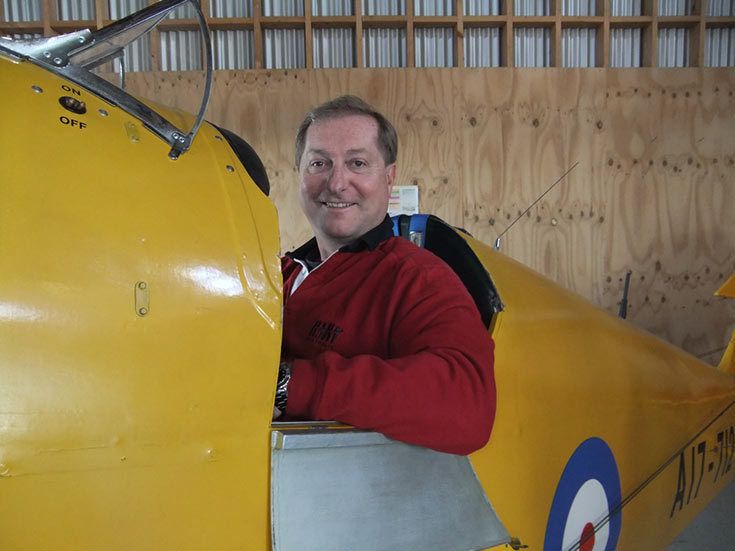 I think Mike is going to be spending a lot of time viewing the world from this position!
Friday saw Bruce and Stephanie Governlock arrived in their Stearman to have some small jobs done at JEM Aviation, including the installation of a smoke system. On taxiing in they were reminded of the recent rains when the big Boeing taxied through a fairly substantial taxiway. It is said that this popular couple always make a splash wherever they go!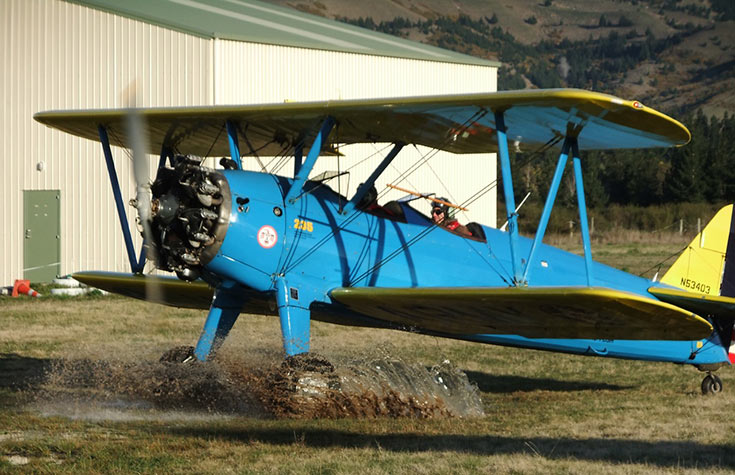 Splash! Â Soon, Bruce and Stephanie will be able to replace this 'shower screen' with a 'smoke screen'!!
Of course, as the Stearman arrived at the JEM Aviation hangar, museum visitors watching from the fence thought they were seeing double as ZK-STM joined our own Stearman ZK-KJO in the building. If there is anything better than a Boeing, it's two Boeings! The resident 3-seat example has just acquired her replacement P&W R.985 in preparation for starting to earn her keep flying joy-rides in conjunction with the Omaka AHC and the Marlborough Aero Club so she's about to be seen a lot more around Marlborough - at long last!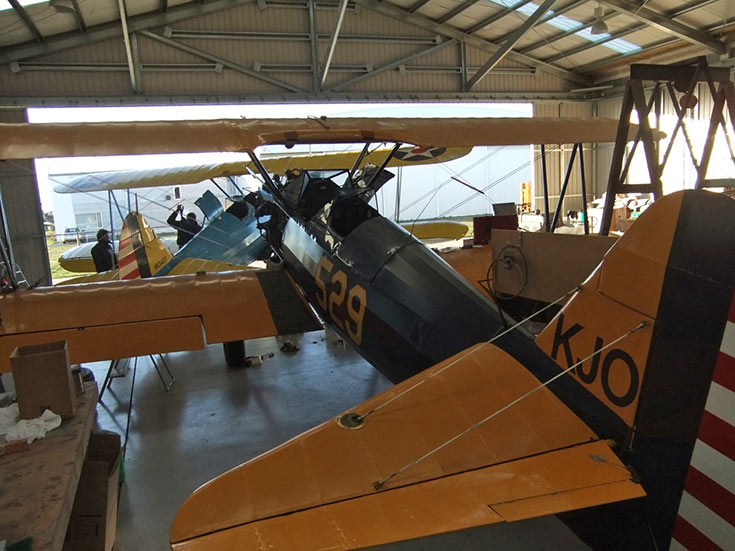 JEM Aviation's 'Boeings are us' corner!