07/12/2012
Recent Activities at Omaka
We've been so busy on so many fronts at Omaka that the updates have been few and far between. With the onset of summer there seemed to be even more old aircraft activity at the field than usual. Here are a few pix from last week....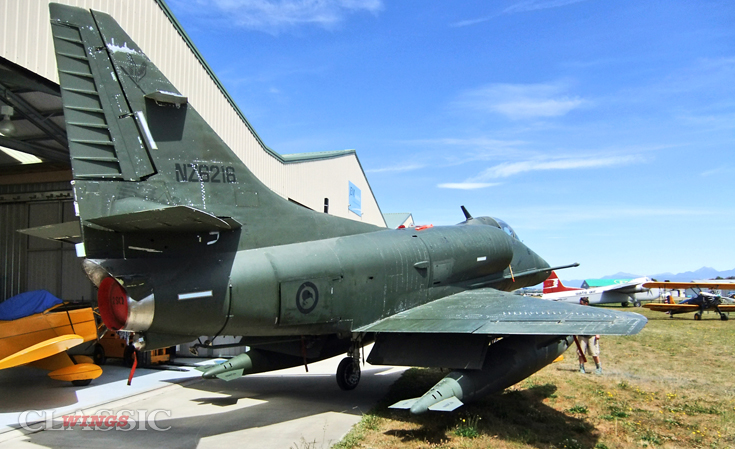 SKYHAWK - MUSICAL CHAIRS
We saw something of a 'rearrangement of the furniture' over the past week or so as the Omaka AHC Skyhawk exchanged its temporary storage in John Saunders' hangar, for temporary storage in the Marlborough Aero Club hangar as Bill and Robyn Reid's magnificent Anson took up the slot in John's hangar. This allows the Anson to be in the front of a hangar, suitable for a flying aeroplane, rather than right at the back of a deep hangar like the MAC building, this being much more suited to a static display aeroplane like the Skyhawk. There is no doubt about it - we certainly can't complain about a lack of variety of aircraft types passing between the Omaka AHC and the Classic Wings hangar!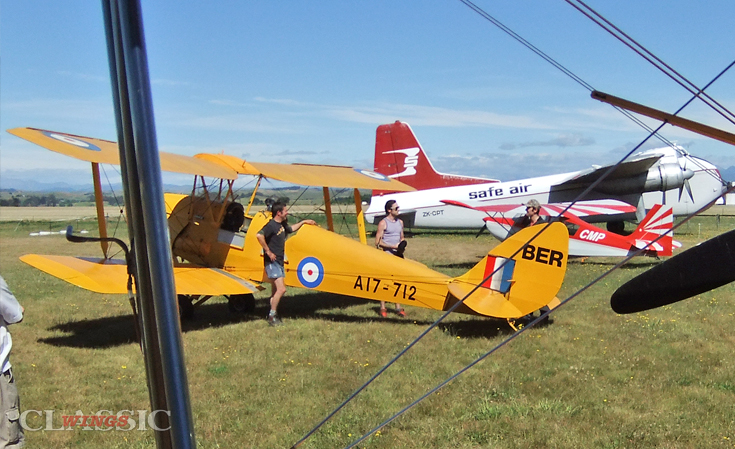 TIGER AND CITABRIA FLYING
Monday started with a lot of noise as Mark O'Sullivan and his brother-in-law Keriren exercised the syndicate Tiger Moth 'BER' whilst John Lowe flew along side in the lovely Citabria that is operated by the Marlborough Aero Club. The Tiger is flying beautifully now with its engine freshly overhauled by the guys at SouthAir Ltd, and a beautiful new propeller by Brent Thompson.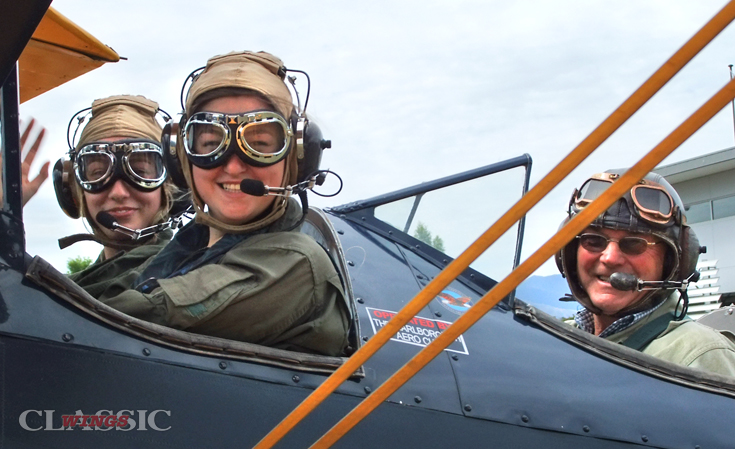 BIRTHDAY BOEING BUZZ!
Our Popular 'Sunday Girls' Brittanty and Grace enjoyed a special treat on Tuesday when they were shouted a special flying treat by John 'Sany' Sandilands aboard the Classic Wings Stearman flown by Kevin Wilkey. The special occasion was Brittany's 18th Birthday and she even enjoyed having 'Happy Birthday To You' sung to her as Kevin took the three of them through a series of gyrations over Marlborough. Sandy worked on a Typhoon squadron in the RAF during WW-II and today is a private pilot flying a slick modern Dynamic two-seater however for this occasion he wanted to show the girls some real 'bugs in the teeth' flying adventure, so it just had to be the Stearman!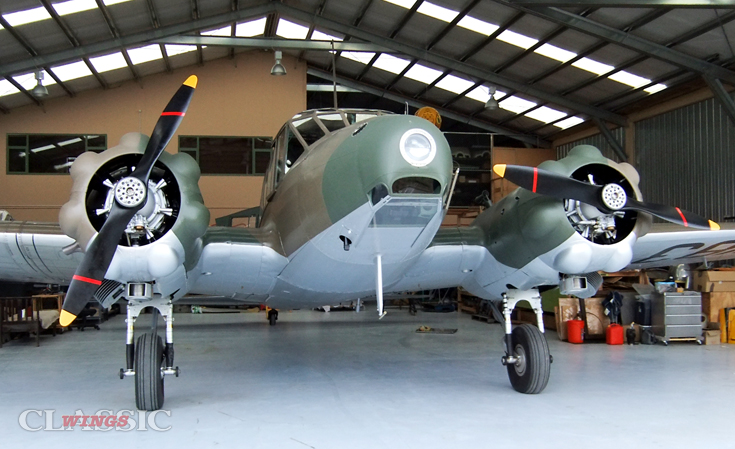 ANSON HOUSE MOVING
The rearranging of the furniture in John Saunders' hangar has allowed Bill and Robyn's beautiful Anson a more fitted 'private quarters' in which to reside until such time as the AHC's WW-II extension is built. The lovely song of those two Cheetahs in harmony is becoming a familiar note around Omaka. Even after watching this restoration from start to finish, we are all still in awe of the outstanding work that has been completed on this significant aircraft!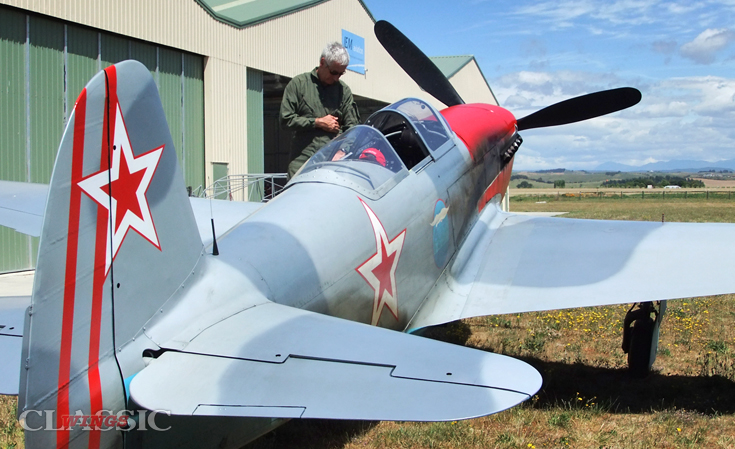 YAK FLYING
We had two Yak pilots exercising the stunning Yak-3 on different days this week. Naturally, everything on the airfield stops when that Allison V-1710 powers up to full noise as this exceptionally pretty fighter launches down Omaka's hallowed grass. Everyone on the field can be forgiven for feeling a sense of pride over this exquisite rebuild, carried out right here on the field by the JEM team. It was particularly nice to see Graeme Frew taking his lovely wife Sue for a blast in the red-nosed Russian rocket!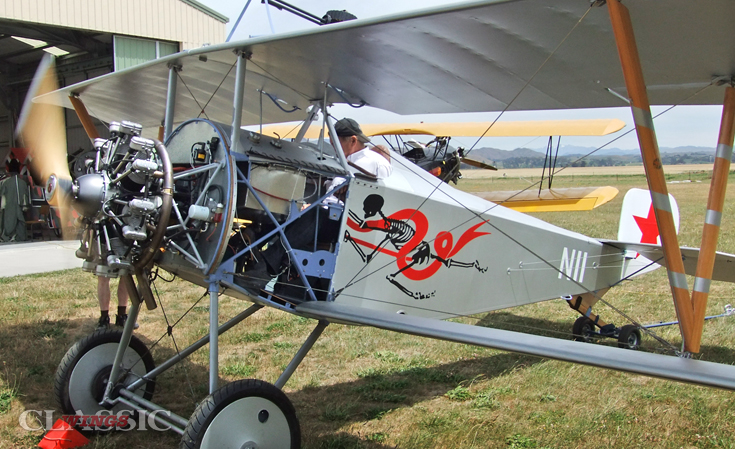 NIEUPORT RUN-UPS
After a lengthy hiatus, the Nieuport 11 was outside again having her first engine runs since the gearbox/nose case returned from its inspection at the Rotec factory in Australia. The little fighter is going through her annual now and Graham Orphan, is looking forward to test flying her again soon. A new colour scheme, also temporary, is expected shortly.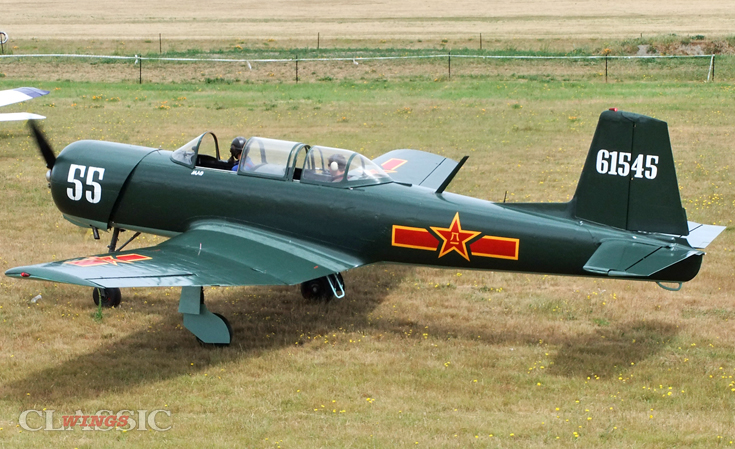 NEW NANCHANG
The Wellington Nanchang syndicate arrived towards the end of the week to collect ZK-MAO, their freshly repainted CJ-6a, freshly rolled out of the JEM Aviation shop after a total strip down and repaint. Haydn Sutton had the lousy job of stripping the aircraft completely whilst Marty Nichol did a masterful job of painting the aircraft - including the Chinese insignia (yep, those are really painted, not just vinyl stickers that we often like to use these days!).