Want a digital magazine?
We are currently in the process of setting up a digital subscription option which we hope to have in place in the near future. For those who prefer old school there is no need to panic, we will continue to offer the real thing!

Recent Activities at Omaka
We've been so busy on so many fronts at Omaka that the updates have been few and far between. With the onset of summer there seemed to be even more old aircraft activity at the field than usual. Here are a few pix from last week....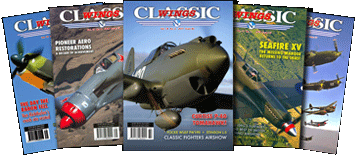 Classic Wings is a bi-monthly publication for pilots, restorers and lovers of old aircraft worldwide, and is the official magazine of both the New Zealand & Australian Warbirds Associations. With dramatic air to air photography on quality gloss paper, in-depth articles covering all aspects of vintage & warbird aviation and extensive news coverage from all corners of the globe, Classic Wings is the true aviatior's journal. If you would like significant penetration in the aviation community at a very affordable price, Classic Wings is the vehicle to deliver it. More Info