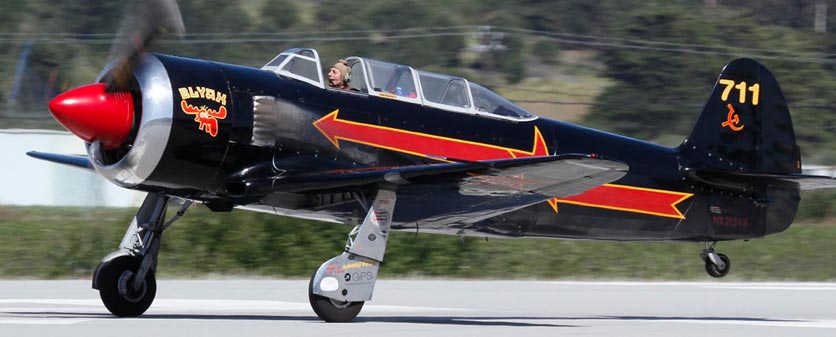 DEAL OF THE YEAR! - YAKOVLEV YAK-11
USD $299,000
The best bang for buck in the warbird world, the Yak-11 offers the performance of a WW-II fighter at low cost and high manageability. With the reliable P&W R-2000 giving 1,500 hp, this is perfect for everything from aerobatics, display flying, to fast travel for a weekend away for two. This beautifully presented example is offered at a special low price for a quick sale.


PERCIVAL GULL IV
P.O.A.
The one and only chance you will have of owning and flying one of Edgar Percival's original Gull monoplanes. Of the 29 Gull IVs built, just two survive, the other in a museum in Brussels. A well recorded survivor, VH-UTP has been rebuilt to as-new standard by multiple award-winning MothCair Aviation. For the ultimate, exclusive, British 'golden age' aviation experience, you will not go past this treasure.


Kittyhawk 'White 25'
USD $450,000.
After recovery from Russia, parts and materials needed for this Kittyhawk have been painstakingly gathered to bring together all the original components needed to put a P-40 together including virtually every line-item on the Curtiss Illustrated Parts Catalogue. Many items already professionally restored.


WIRRAWAY PROJECT
Call for details
Excellent CAC Wirraway project. Much work has already completed on this project, all to a professional standard by an experienced Wirraway team. Very comprehensive manifest includes geared P&W R.1340 engine and propeller.


WW-I AIRCRAFT SYNDICATES - OMAKA, NZ
Call for details
We have openings available for people who would like to become part of the exciting Omaka heritage aviation scene via a selection of syndicates operating aircraft of the Great War. Opportunities exist to co-own examples of the Bristol Fighter; Avro 504K; de Havilland DH.2; Fokker Eindecker and Sopwith Camel.

ALSO... If you're looking for something Japanese, CALL NOW!

Graham Orphan
PO Box 534, Blenheim, New Zealand
email: graham@cwd.co.nz
Phone: +64 3 578 9609
Cell: +64 21 683 954